I finally started sewing again. I actually have been upcycling and mending things, but not anything too exciting to share. I also made a dress for daughter to sing during an assembly way back in February, but it is not finished enough to be photographed - actually she's refusing to wear it again, so I am going to remake it for myself.
I had two 90s skirts from cotton voile made in India, the kind that used to be sold in hippie stands, that I had in my possession for about 15 years. They were given to me for free by friends. Too pretty to get rid of, too big and too short to wear so I kept them to make something of, moved it from apartment to apartment, house to house, and finally, a decade and a half later, made three tops out of it.
Simplicity 1615
Grainline's Tiny Pocket Tank
New Look 6892
The first one is a cute pattern Simplicity 1615 View A. It is super cute, but drafted super large. I measure size 16, usually fit 14. However, I cut out a 12. As you can see and as my mom pointed out, the armhole is way too big, but - even though the straps were sized down to size 6! and they are still too low. The straps and the armhole binding is a one piece. Therefore, it is really important to get the length right. I had to ease the armhole quite a bit, and what ended up happening is the ease amount was a little different so the back is crooked and one side scoops a lot more in than the other. No one would notice that besides people who sew, I hope, so I don't sweat it. It is still wearable, even though the material is slightly see through. Another fact about the pattern is that it is a little low cut and when sitting down, it kind of drops even lower and showing almost everything, please keep that in mind. I have to make a knit bandeau just like the one I made for daughter to wear underneath it.
The side seams are french seamed, the front top is finished with bias binding. The straps, armhole binding pieces - from self fabric. The hem was finished with roll hem foot. At first I was thinking to make views with sleeves but now I am too scared because of how low the armhole openings are. Other people who made up this view have pointed out and have warned on how big this pattern is, and that is the absolute truth. Still, it is an interesting pattern that might require some adjustments - for me it would be raising the armhole by about 2 inches.
Searching for a "good" face
Double strap is not a feature - just bra straps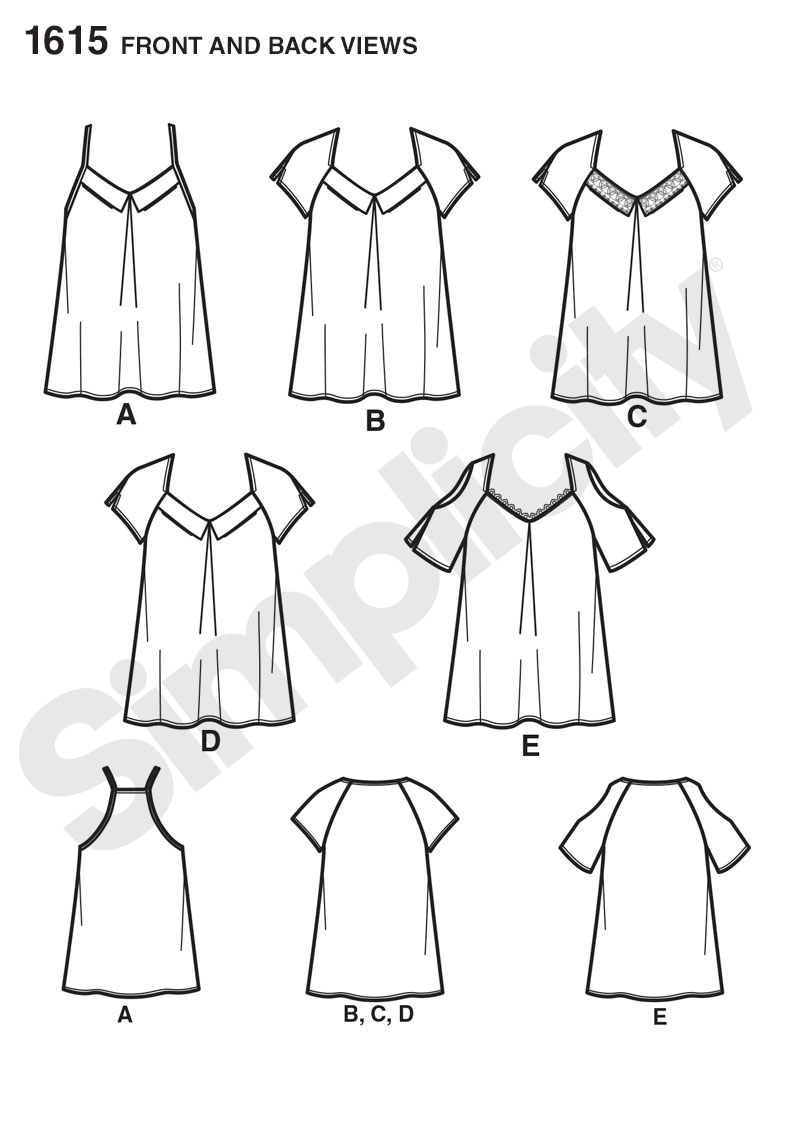 Made view A with collar.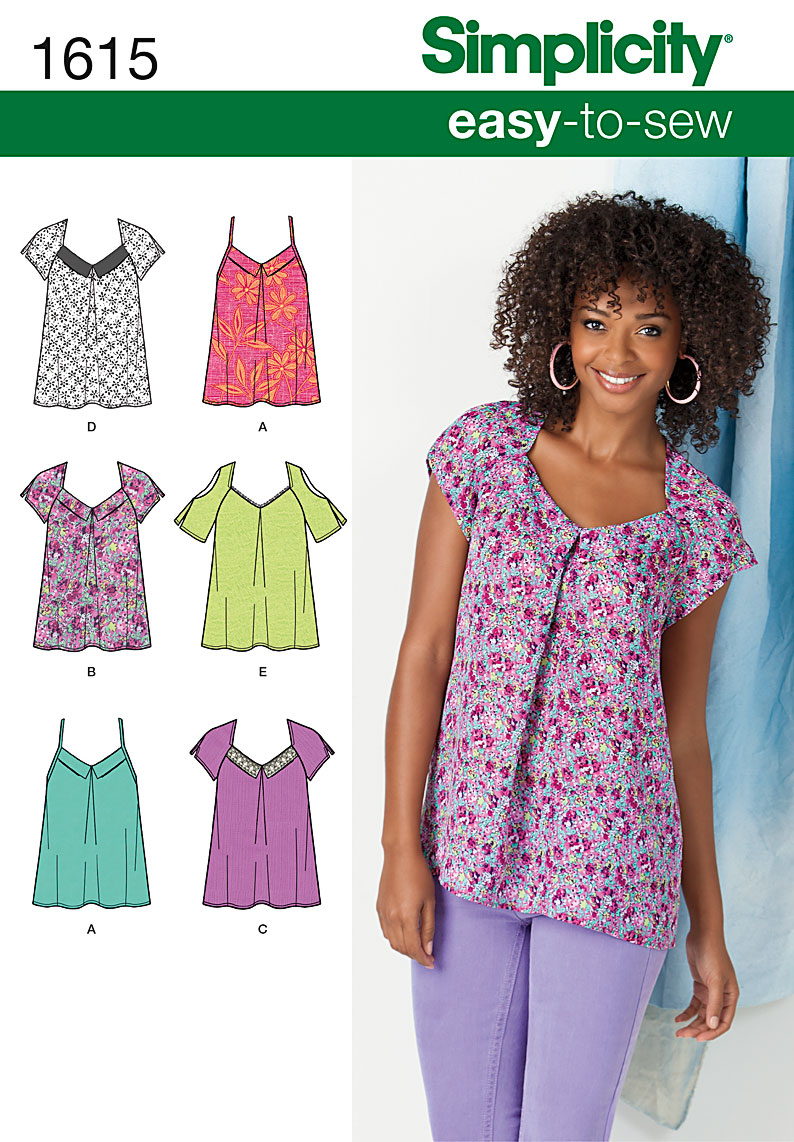 Simplicity 1615
The next top I made from the same skirt is Grainline's Tiny Pocket Tank. At first, I didn't want to buy this pattern since I thought it was too basic. But after (yet undocumented) failure of Simplicity 1614
and after daughter's bike was stolen from school but later recovered,
I officially broke down and bought $50 worth of Grainline's patterns including Scout, Maritime shorts, Moss skirt, and even Archer! I needed shopping therapy that day. However, knowing my record, I should be done with those within the next 65 years, so - stay tuned!. I am very pleased with how it turned out, the shoulders fit a lot nicer. It has a flattering flare design and the hem is shaped nicely. It is not just a regular old tank. Everything is very subtle - and it actually fits (in my opinion)! I did make a construction mistake and stretched out the back when applying the binding. That's because, I cut binding too narrow and I tried to make it work. It did, but the back is slightly wavy - again no one would notice it but me and you, now that I told you.
The reason the top is wrinkled is because daughter promptly incorporated the top into her wardrobe, she styled it with a small tie knot to turn it into a crop top. I was too lazy to iron and the "photographer's service hours" were closing.
This is a "Pleased with this tank" expression
Wrinkled due to daughter's previous wear
And this is all that's left from the skirt and some scraps.
Any item made out of this skirt is just that - Just Class!
Next is New Look 6892. This is the first envelope pattern that I bought to add to my 100+ strong pattern collection along with a pattern for
American Girl Doll clothes

. The other pattern will not materialize any time soon, as daughter is now a high schooler.
First there was the skirt, which was cut up by daughter during her dress up playtime 10-12 years ago.
The colorway of the fabric is super bright 90s and features tribal stripes, night sky, moon, palm trees, pyramids, trees and even churches!
Then, there was a silk scarf found laying in the puddle of mud in the park while walking dogs a year or two ago.
I cut a size 12 because the finished measurements on the envelope were 42 inches which is the same measurement as my Gap medium woven shirt that fits very loose.
My original plan was to add a wide ruffle on the bottom cut from the striped section, but after I assembled the main pieces daughter immediately claimed the top and told me not to add ruffles so she could have a crop top to wear on the last day of school. Apparently, crop tops are all the rage in the junior and high school set. At first, I refused, not wanting to compromise my original design, but on careful consideration, I realized, the ruffle didn't go with the polka dot silk scarf's sleeves. I decided to listen to my daughter once again. However, I do want to implement my ruffle(d) vision in the nearest future.
The sleeves and side seams are done with french seams. The neckline is bound with bias binding and has elastic. I hemmed the blouse by hand - just didn't want to ruin the top at the last minute.

Here's some pictures of the finished top on me in the backyard:
Excuse the pained expression - was trying to give instructions to the reluctant photographer
Didn't match the side seams - got too excited and impatient
There are two pyramids in the back, instead of one!
Here are some in progress pictures:
I really like polka dots, but the sun and the people around it - not so much.
I cut out the sleeves around both suns located on each end of the scarf. Now I have the sun scraps in case I ever want to applique them onto something, actually I just might!
And here's daughter wearing it to the skating rink:
At the end I would like to part with a gratuitous laundry shot along with my other makes, Burda
02/2010 #112A
and a blouse based on the pattern of a dress from Журнал Мод 2001 or so.